Labor market surveys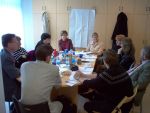 The analysis of the dynamics of labor market processes and the identification of disadvantages on the labor market is an important task in every social environment. One of the most important prerequisite of economical and political strategy-making, either state level, regional, or town level, is the continuous following, analysis and evaluation of labor market processes. Numerous labor market research projects were conducted in the last years in Hungary, analyzing mainly the macro level processes. For an efficient employment policy making, and for a better understanding of the sociological dimensions of unemployment, a narrower, more focused approach is also needed. Research projects exploring the labor market positions of certain age- or social groups, or mapping the labor requirement of certain areas are examples for this type of studies. Our research projects dealing with labor market disadvantages are conducted with this in mind.

Research reports are available in Hungarian. For further information concerning the research projects, please contact us via the projekt@echomail.hu e-mail address.