Echo Library

The Echo Library was established in 2004 by the Echo Survey Sociological Research Institute. The Library has several research collections:
·         Leslie Kish Methodological Collection

·         Szűcs Jenő Eastern European Development Collection

·         Studies and Research Reports Collection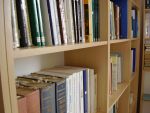 These collections represent the main research focuses of the Institute. Besides the research support, our overarching goal is to actively accumulate knowledge about Eastern Europe as a region. According to this goal, the Echo Library hosts not only the latest publications, but also classic and archived works of scholarship in social science. Currently the number of volumes is 900 and the library have a collection of CDs containing the database of nearly 100 international research projects, and the collections are getting larger every day.
Besides the professional collections, many Hungarian and international journals can also be found in the Echo Library:
- Contemporary Sociology
- Current Sociology
- Demography
- International Sociology
- Population
- Rural Sociology
- Social Forces
- Sociological Forum
- Voluntas
The currently available Hungarian journals are related to:
·       sociology

·       demography

·       education

·       economy

·       political science

·       statistics
---
A large number of our books were donated by individuals and institutes. We appreciate the contribution of the following donors:
Prof. J. Mayone Stycos, Cornell University
Prof. Thomas Lyson, Cornell University
Library of the Population and Development Program, Cornell University
Prof. Jeffery Sobal, Cornell University
Kulcsár J. László, Kansas State University
Domokos Tamás, Echo Network
---
The Echo Library currently serves the permanent and temporary research personnel of the Echo Institute, and also our visitor researchers. If you have any questions regarding the professional collaboration with the Echo Institute, please contact us via the following e-mail address: tdomokos@echomail.hu.