Echoes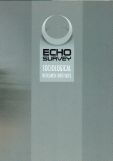 Echoes is the Working Paper Series of the Echo Sociological Research Institute. It was started in 2004 to provide an additional opportunity for the Institute-based research activities to reach the international scientific community.
Working papers are works in progress, in most cases they offer preliminary results of ongoing researches. Therefore we ask not to cite these papers without contacting the author or authors first. Comments, feedback and critics about the papers are welcome.
If you would like to contact the Institute with respect to the working papers or the researches they cover, please do it via the info@echomail.hu e-mail address. Also, if you would prefer a hard copy of this paper, please contact the Institute.
The authors and the Echo Institute retain full copyright over this paper.
Working Paper series editor: László J. Kulcsár, Cornell University
Downloadable issues of the Echoes:
Agnes Szanyi: "Private Art" on the Internet - Fine Art and Taste in a Globalizing World
Tamas Domokos - Laszlo J. Kulcsar: Post-adolescent adulthood? Changes in family formation and adult demographic behavior in post-socialist Hungary
Laszlo J. Kulcsar - Tamas Domokos: One Generation but Two Places: Tolerance and Nationalist Attitudes among Ethnic Hungarian Students in Hungary and Slovakia
Tamas Domokos - Laszlo J. Kulcsar: Leaving for Good: How Does Development Make a Difference in Migration?